FAÇADE: a Stage for Brussels

in KANAL-Centre Pompidou, Brussels, Belgium,
from 02 Sep 2023 to 10 Mar 2024

---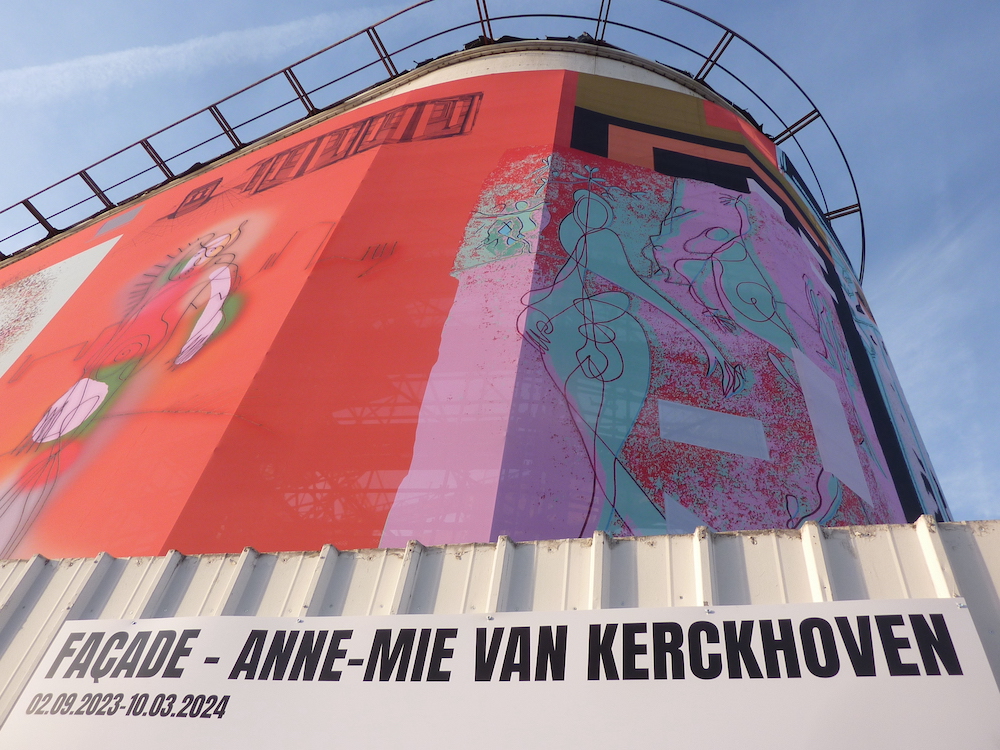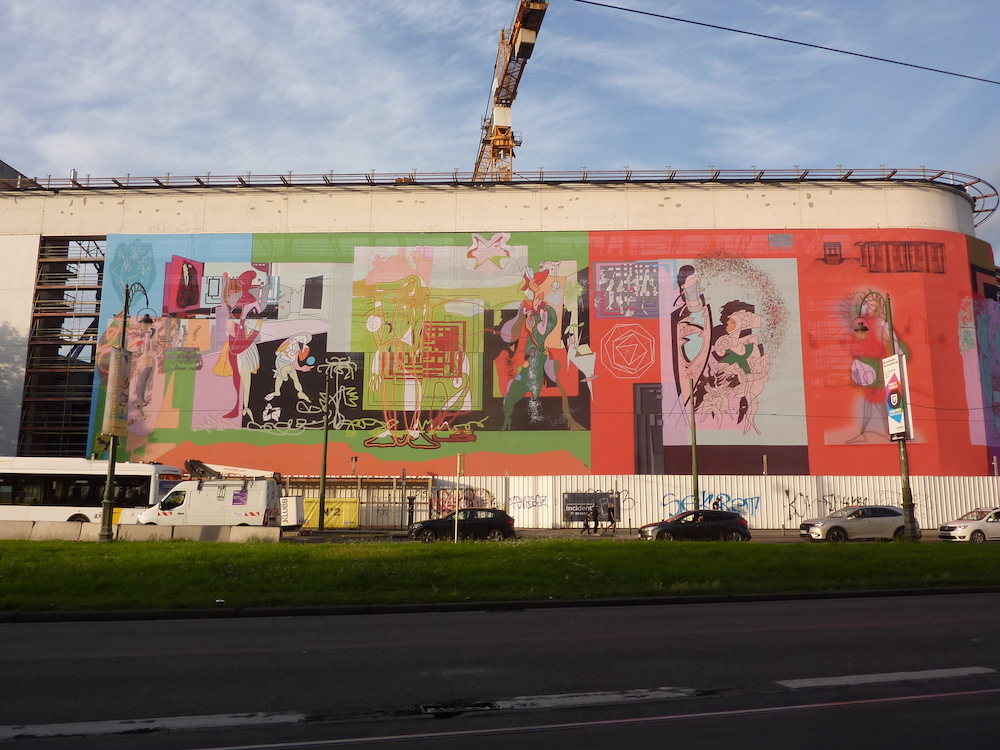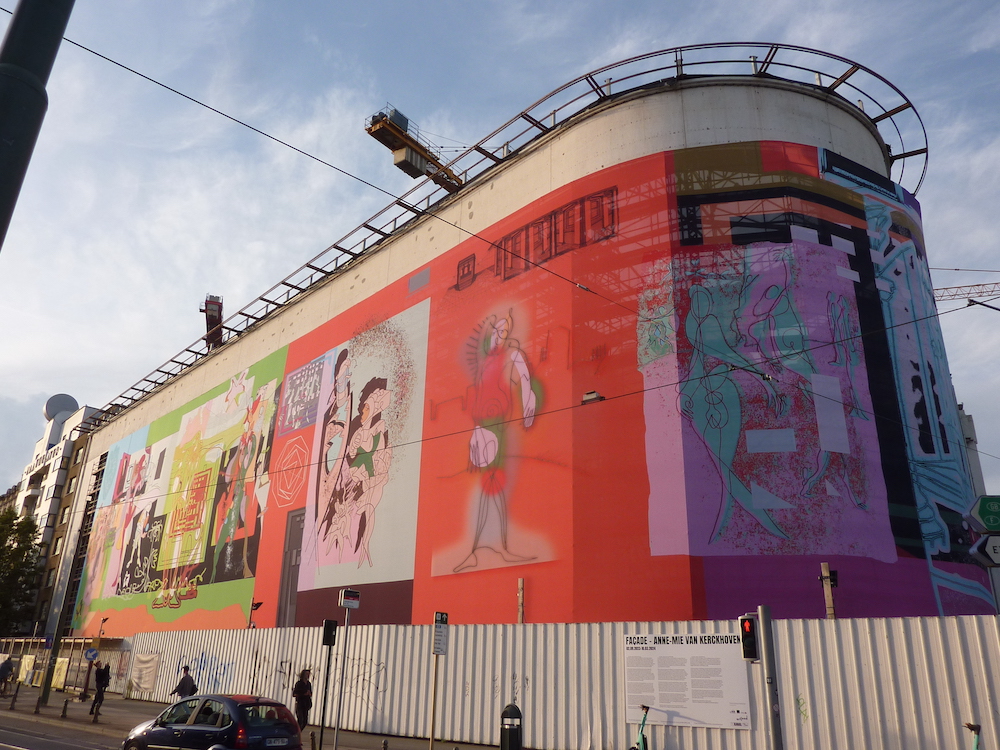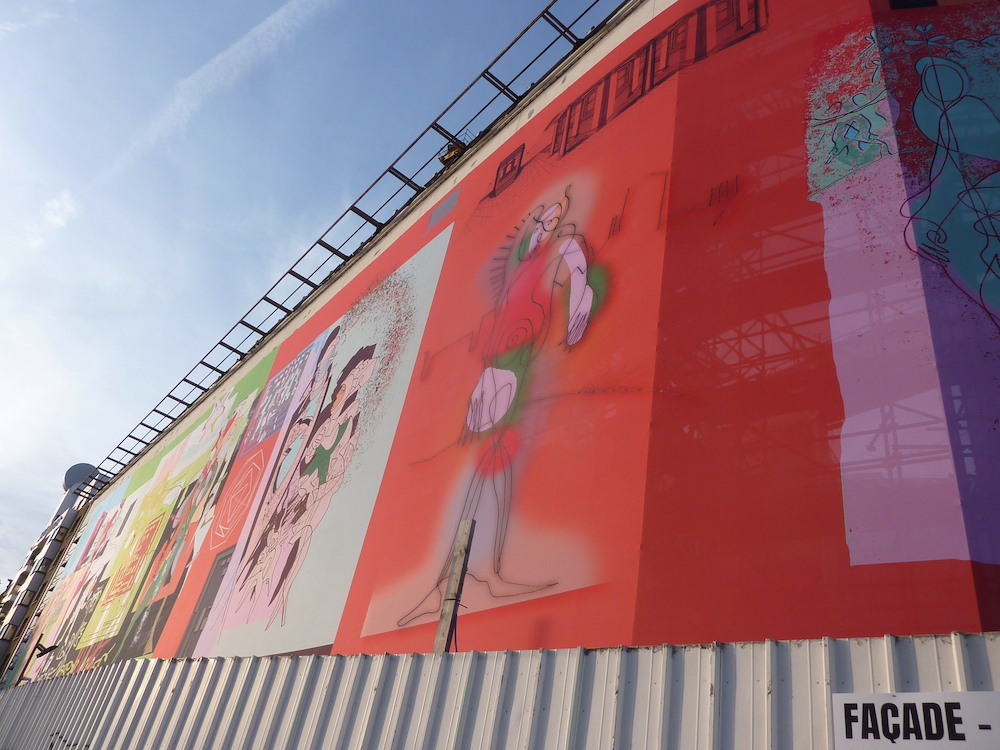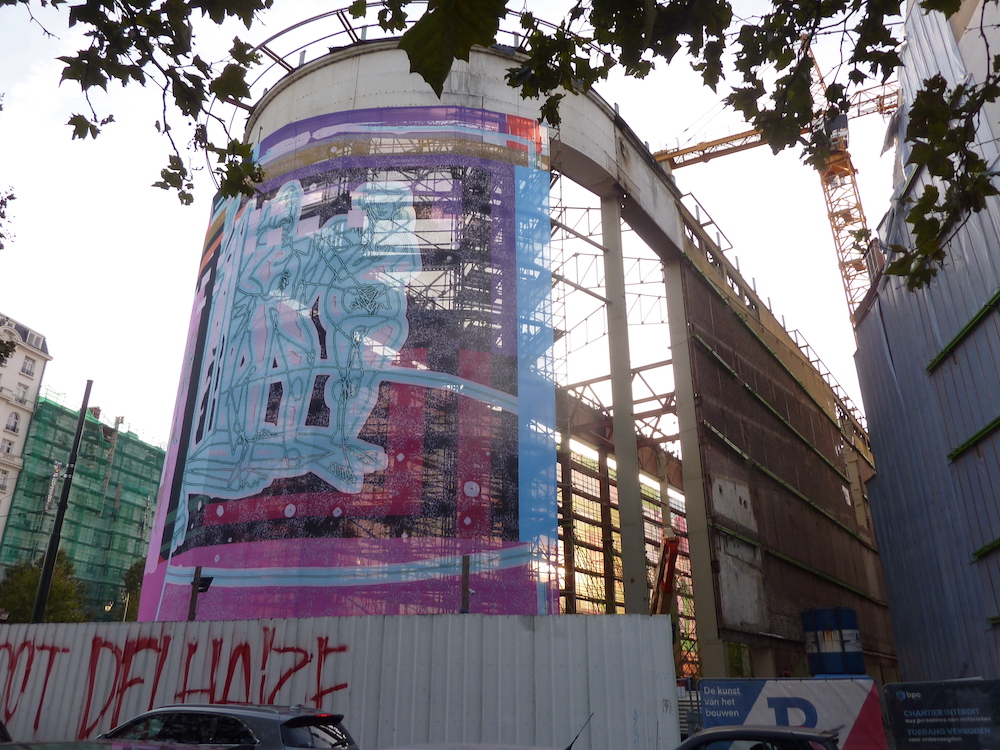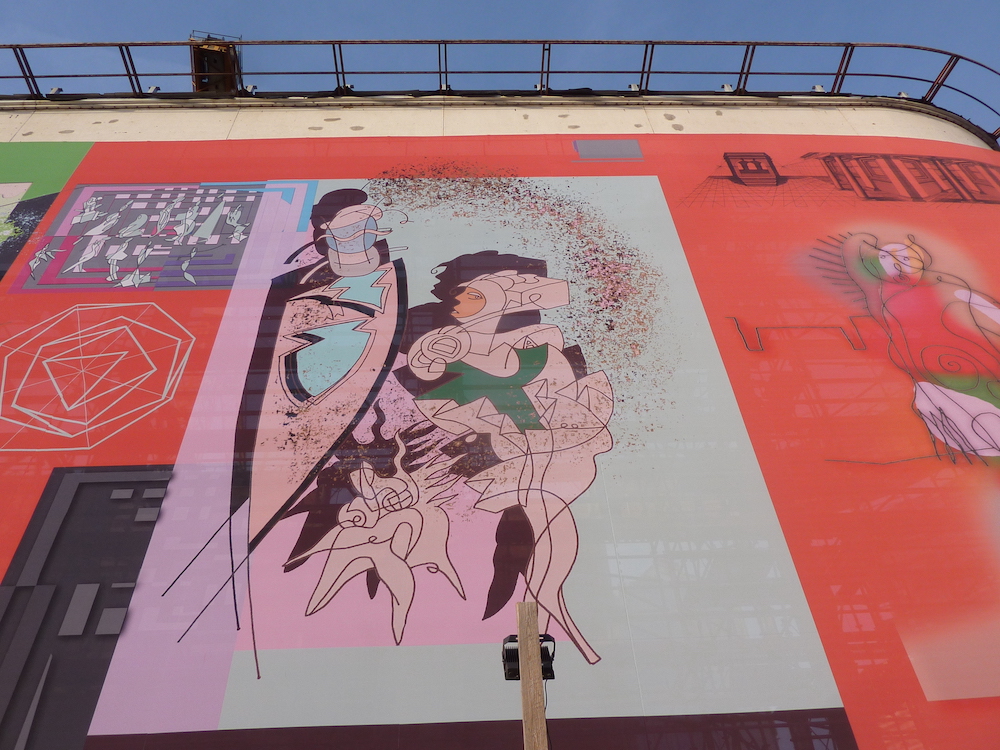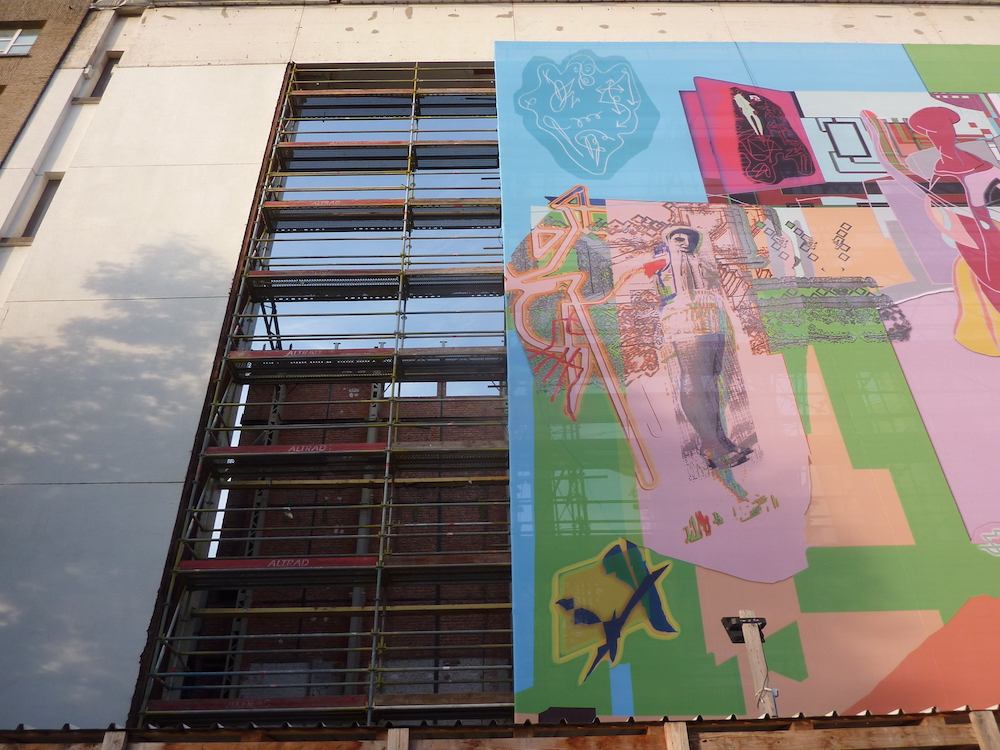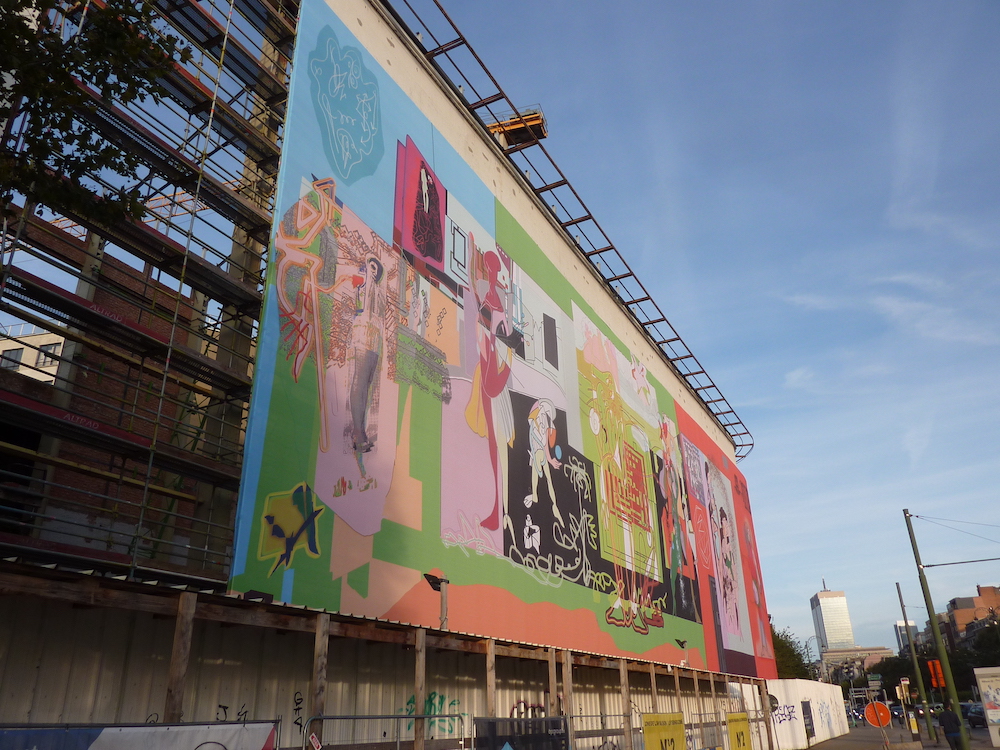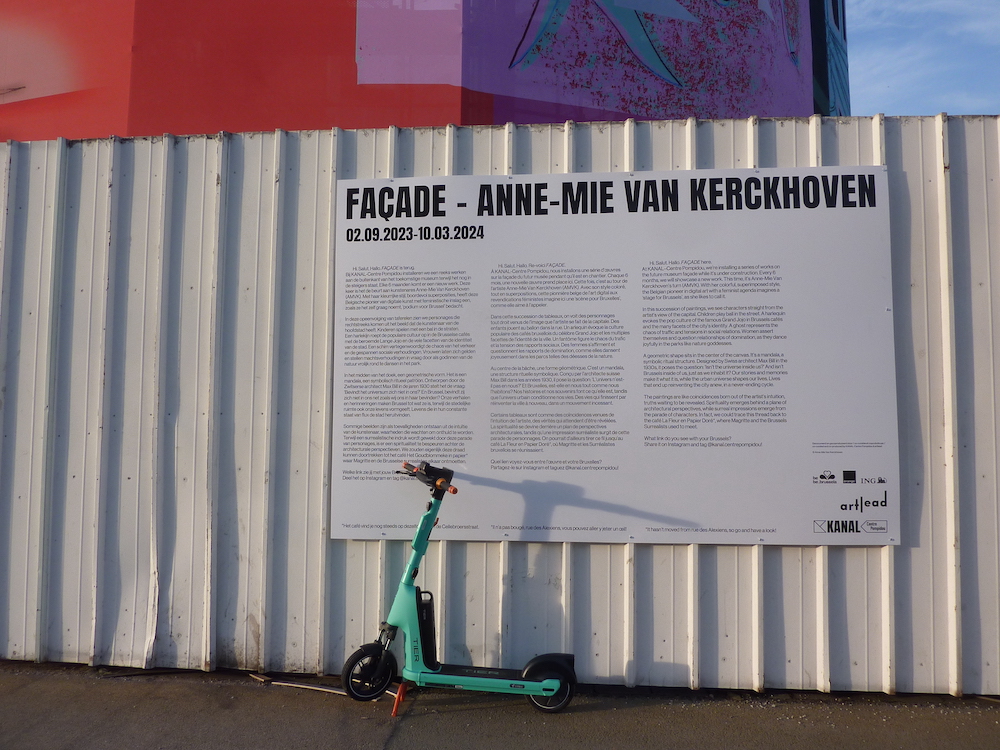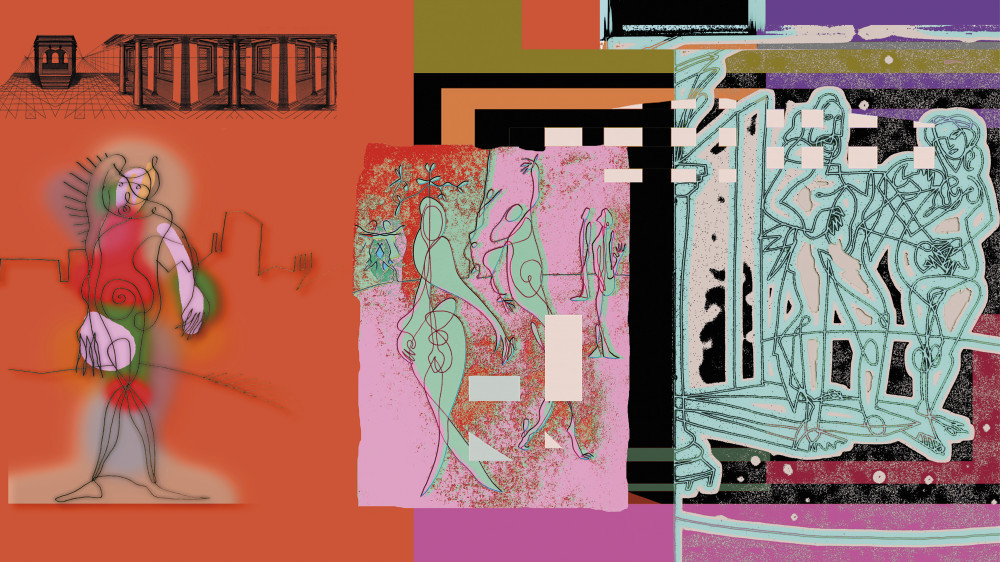 For the second edition of FAÇADE, a series of monumental works in the public space taking over the scaffolding at the site of the future KANAL-Centre Pompidou museum, artist Anne-Mie Van Kerckhoven (AMVK) pays homage to the city. On the huge tarpaulin, she creates what she calls "a stage for Brussels". Through her colorful, layered style and feminist, socially engaged critique, AMVK presents us with paintings and characters that constitute the artist's intuitive image of the capital and its history.
Quasi-mythical beings, large and small, play in the street. A harlequin evokes both the popular culture of the Brussels cafés frequented by the famous Grand Jojo and the many facets of the city's identity. A number of fierce women take center stage, challenging dynamics of domination; they dance joyfully in the parks like goddesses of nature. A ghost conjures the chaos of traffic or tensions in social relations.
All of these characters form a grand metaphorical parade that alludes to Brussels' past, with its role in the Surrealist movement and the café La Fleur en Papier Doré, where the artists used to gather. AMVK draws on folklore and plays with references to the alchemical mecca that was Brussels, to artificial intelligence, and to the history of art and architecture.
The artist adds fragments of her own work to these new inspirations, and images that she has collected elsewhere and manipulated. The touch of fantasy she applied to a perspective study by Flemish Renaissance painter and architect Hans Vredeman de Vries dating from 1583 elicits the junction between the material and the spiritual, the micro and the macro, the high and the low.
The motif in the center of the work is a mandala, a symbolic ritual structure designed by Swiss architect and thinker Max Bill in the 1930s. About these he wrote: "Isn't the universe within us?" And isn't Brussels also within us? Indeed, AMVK's FAÇADE explores how myths, memories, and land shape a city, how this infrastructure affects city-dwellers, and how they change the city in return.
Part trompe l'œil, part wink, the work sees contradictions dissolve between chaos and order, logic and mysticism, eroticism and technology.
---
PROGRAMME 2 sept 2023 
KANAL - Sainctelette 11-12, 1000 Brussels.
16 – 18:00 Inauguration Façade Anne-Mie Van Kerckhoven & drinks
K1, Avenue du port 1, 1000 Brussels. 
18 – 21:00 Opening with music, food & drinks
18 – 19:00 : Concert by The Grateful Jazz plays Easy Listening (Rudy Trouvé & band)
19 – 20:00 : Dj set by Danny Devos: Carl Cryplant plays Music for Cars
20  - 21 :00 : Dj set by Sara Dziri
21:30 Doors closed 
---
0 works and 5 articles (until now)
1289 views