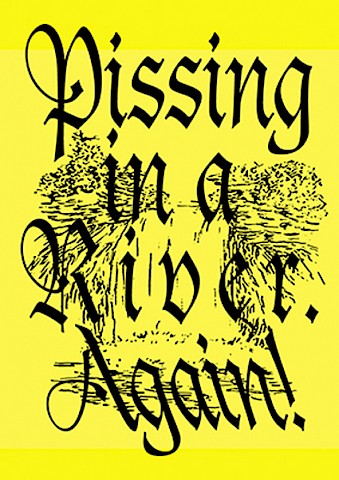 Patti Smith's "Pissing in a River - Watching it Rise" (1976) stands metaphorically for resistance and rebellion. To begin with, the lyrics refer directly to intensive feelings of inevitability, uncertainty and vulnerability, which the musician transforms through a provocative and self-determined act of strength and courage. In this way, making a break with societal conventions leads to the self-empowerment of the lyrical protagonist.
In the framework of the exhibition project Pissing in a River. Again!, 31 contemporary female artists from various generations show works from a range of diverse media, including videos, sculptures, paintings, photographs, and performances. The works grapple with social questions in diverse ways. Attributes such as strength, independence and decisiveness – ostensibly associated with masculinity – are thematically appropriated by the exhibition's female artists to take on other characteristics.

This approach is also taken up in the spatial concept of the exhibition, which was likewise conceptualised by the artists Stephanie Kloss and Andrea Pichl: fragments of a roof structure made of black sailing rope connect all exhibition spaces and artistic positions. In between, the proposed colour Cool Down Pink is applied as a critical commentary: the rose tint has a calming effect and de-escalates the potential for aggression according to psychological studies. Meanwhile, it also refers to traditionally feminine gender roles and norms in which resistant behaviour is not allowed any space – and has instead long been associated with hysteria.

Pissing in a River. Again! celebrates the diversity of contemporary female artists who position their work intensively and offensively in an art world still dominated by masculinity – or who directly challenge this. At the same time, the project brings together a selection of female artists of various generations, mostly living in Berlin. With the support of a diversity of methods and materials and an extensive programme of side events, the exhibition teases out the rules of feminine self-determination: provocative, humorous, loud, and strong.

Artists: Caroline Achaintre, Yael Bartana, Caro Bittermann, Teresa Burga, Susanne Bürner, Keren Cytter, Natalie Czech, Tatjana Doll, Kerstin Drechsel, Valérie Favre, Berta Fischer, Laura Horelli, Nadira Husain, Anne-Mie van Kerckhoven, Stephanie Kloss, Folke Köbberling, Julia Lazarus, Hanne Lippard, Sarah Lüttchen, Inge Mahn, Andrea Pichl, Katrin Plavcak, Laure Prouvost, Sabine Reinfeld, Farzaneh Rosta, Katharina Sieverding, Céline Struger, Barbara Trautmann, Raphaela Vogel, Ina Weber, Ruth Wolf-Rehfeldt.
---
Pissing in a River. Again!

from 17 Nov 2018 to 13 Jan 2019
in Kunstraum Kreuzberg, Berlin, Germany.
2059 views