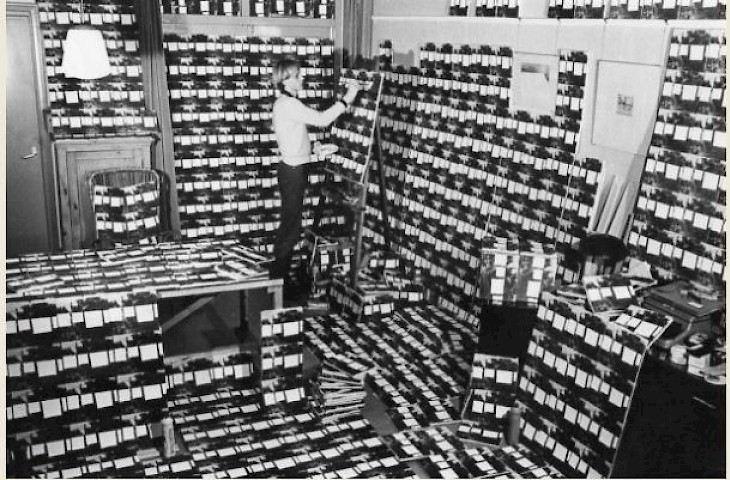 Curated by Kasper Andreasen
The exhibition Copy Construct departs from different artistic practices and specific works by artists that are based on 'reproduction' or 'copy'. The selected works are inherent to the production of printed matter or artist's books. This implies that different artistic media such as painting, drawing, photography, video, sculpture, and graphic design can manifest themselves through graphical problematics and their meanings.
Alongside the 25 works of the artists, a little less than 300 books from the KASK collection(School of Arts, Ghent) and private collections from Belgium and England are displayed in the exhibition. The exhibition architecture is designed by Kris Kimpe and Koenraad Dedobbeleer and is accompanied by a publication, designed by Joris Dockx, which includes a bibliography of the exhibited books, different contributions by the artists, an interview with a book collector, etc.
With work by:
Frans Oosterhof, Guy Rombouts, Kris Kimpe & Koenraad Dedobbeleer, Vincent Geyskens & Jan Op de Beeck, Jan Kempenaers, Marc Nagtzaam, Kasper Andreasen, Henri Jacobs, Ria Pacquée, Aglaia Konrad, Willem Oorebeek, Alon Levin, Stephanie Kiwitt, Mitja Tušek, Anne-Mie van Kerckhoven (Club Moral), Peter Downsbrough, Simon Popper, Sara Mckillop, Gregorio Magnani, Elisabeth Tonnard & Joachim Schmid, et al.
---