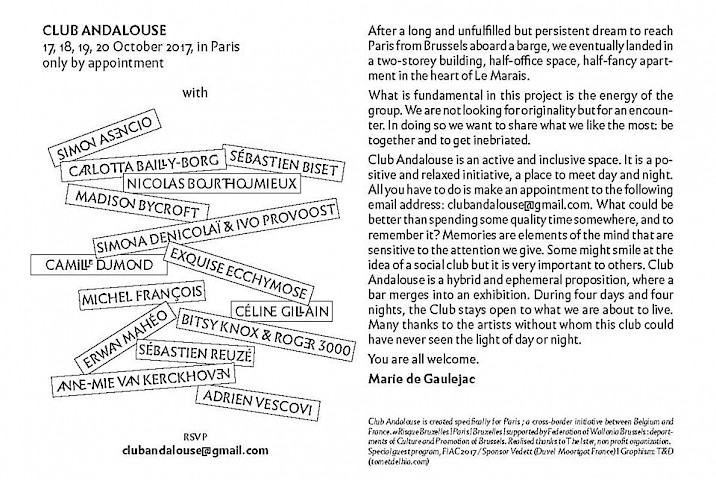 After a long and unfulfilled but persistent dream to reach Paris from Brussels aboard a barge, we eventually landed in a two-storey building, half-office space, half-fancy apartment in the heart of Le Marais. What is fundamental in this project is the energy of the group. We are not looking for originality but for an encounter. In doing so we want to share what we like the most: be together and to get inebriated.
Club Andalouse is an active and inclusive space. It is a positive and relaxed initiative, a place to meet day and night. All you have to do is make an appointment to the following email address: clubandalouse@gmail.com. What could be better than spending some quality time somewhere, and to remember it? Memories are elements of the mind that are sensitive to the attention we give. Some might smile at the idea of a social club but it is very important to others. Club Andalouse is a hybrid and ephemeral proposition, where a bar merges into an exhibition. During four days and four nights, the Club stays open to what we are about to live.
Many thanks to the artists without whom this club could have never seen the light of day or night.
You are all welcome.
Marie de Gaulejac
Club Andalouse is created specifically for Paris ; a cross-border initiative between Belgium and France.
With Simon Asencio, Carlotta Bailly-Borg, Sébastien Biset, Nicolas Bourthoumieux, Madison Bycroft, Simona Denicolaï & Ivo Provoost, Camille Dumond, Exquise Ecchymose, Michel François, Céline Gillain, Bitsy Knox & Roger 3000, Erwan Mahéo, Sébastien Reuzé, Anne-Mie Van Kerckhoven, Adrien Vescovi.
---
Club Andalouse
Special guest program Fiac 2017
from 17 Oct 2017 to 20 Oct 2017
in Club Andalouse, Paris, France.
3147 views